Ather just introduced a new 450x smart electric scooter in an online event. It comes with a range of 105 km with new 21700 battery compared to 85km in the older model, thanks to 3.7kWh battery.  It comes with performance 100/80-12″ tyres from MRF as a standard that promises 22% better grip in turns and better braking.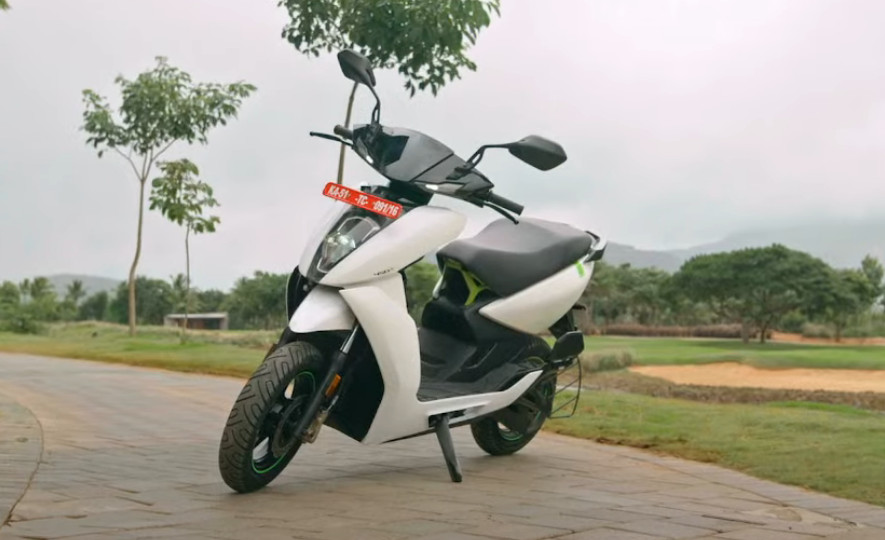 The new model has 2GB of RAM compared to 1GB. This will be helpful for upcoming features such as offline maps, richer graphics, multi-language support, voice commands,  running more apps in parallel, voice commands and deeper diagnostics, says the company.
It has redesigned mirrors that promise 2x visibility and 5x reliability. These are also compatible with older 450 and 450X models.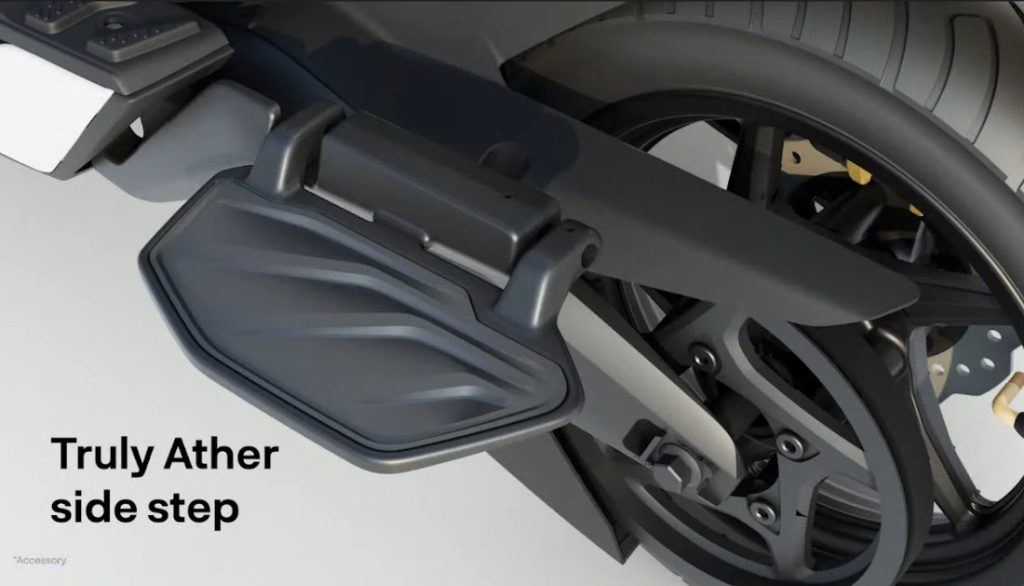 Finally, the new 450X also gets a side step for the pillion. However, this is not compatible with the older models, said the company. Announced at the 450x launch in 2020, Ather has also officially launched the Tyre Pressure monitoring sensor price at Rs. 4999, which is compatible with both older and new models.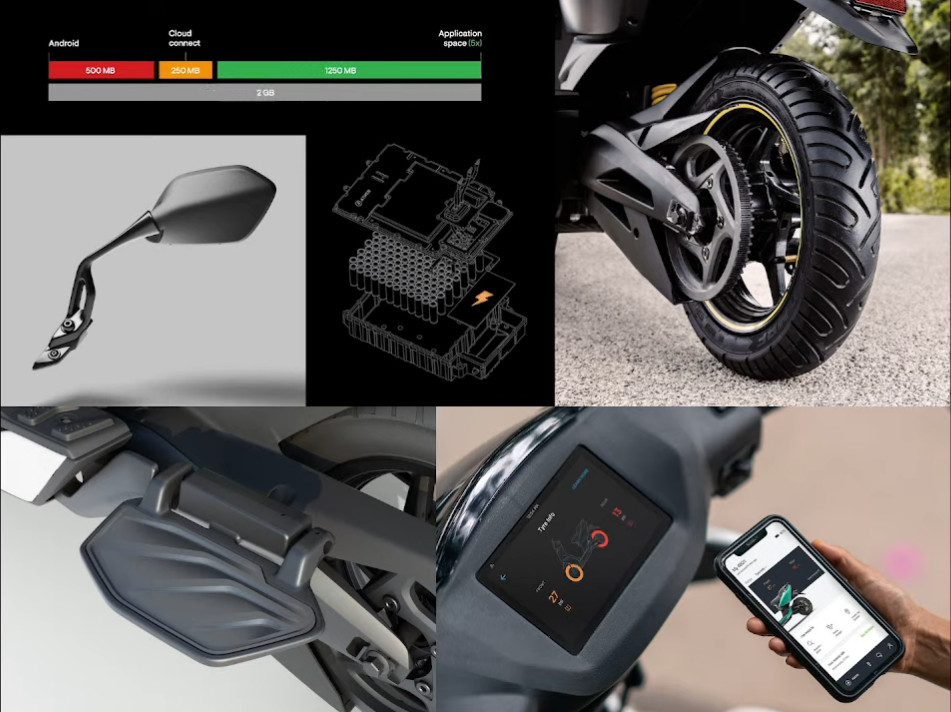 Other features of the new 450x Gen 3 are the same as the older 450X model.
Models
450x Gen 3
450x
Peak Motor Power
6.2kW
6kW
Battery
3.7kWh Lithium-ion
2.9 kWh Lithium-ion
Fast Charging Rate
1.5km/min (0-50% SOC)1km/min (50-80% SOC)
1.45km/min (0-50% SOC)1.1km/min (50-80% SOC)
Certified Range
146
116
On-Road Range (Eco)
105
85
On-Road Range (Ride)
85
70
On-Road Range (Sport)
75
60
On-Road Range (Warp)
65
50
Kerb Weight
111.6Kg
108Kg
Performance
 Snapdragon 212 Quad-core
1.3GHz, 2GB RAM, 8GB storage
 Snapdragon 212 Quad-core
1.3GHz, 1GB RAM, 8GB storage
Pricing and availability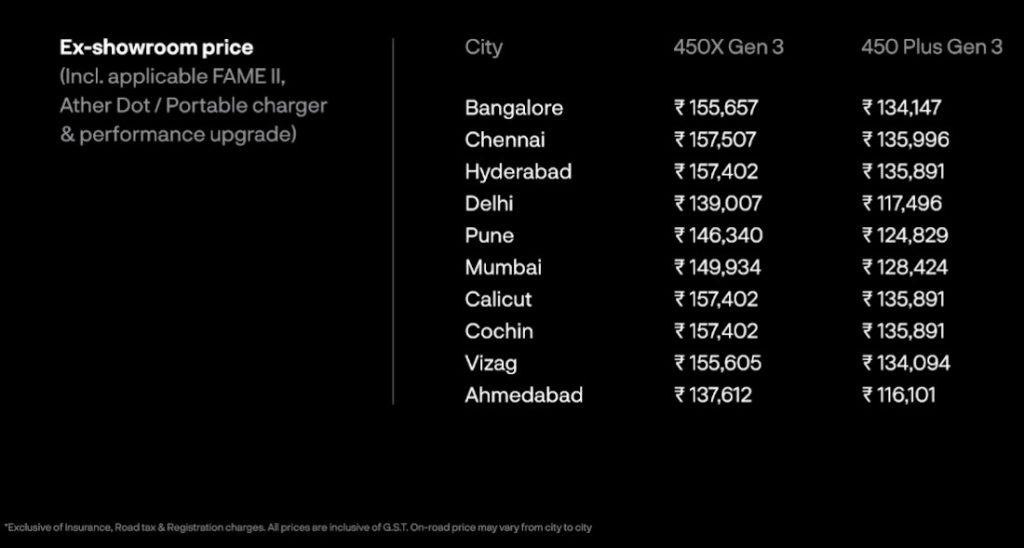 The new 450X comes in the same Space Grey, Mint Green and White colours. It is already available to order and will start shipping starting this July 2022. Ather said that customers who have booked the Ather 450X would automatically be upgraded to the new model, and they will be intimated via email.
Speaking on the launch of the 450X Gen 3, Tarun Mehta, Co-Founder & CEO, Ather Energy, said:
Ather 450 revolutionised the E2W segment in the country and showcased how electric scooters were not just better than its ICE counterparts in terms of performance, but also cracked the right product specifications for the industry. The 450X Gen 2 launched in 2020, made EVs truly aspirational and exciting for the Indian market and set the benchmark with its reliable performance and dependability.

With the 450X Gen 3, we have doubled down on the performance parameters and taken it to the next level to offer a thrilling experience. The Gen 3 also comes in with a bigger battery pack giving us a certified range of 146 kms and TrueRangeTM of 105 kms offering more range to consumers looking for exciting yet reliable and consistently performing electric scooters. The 450X Gen 3 will be pivotal in growing the E2W segment in the country and taking the E2W truly mainstream as we continue to expand our footprint across the country.