According to Counterpoint's Market Pulse research, sales of smartphones in China fell 14.2% YoY in Q2 2022. Volumes for the quarter were less than half of the historical peak of Q4 2016 and were down 12.6% from the level seen during the severely pandemic-hit Q1 2020. The report claims that not nearly ten years ago, in Q4 2012, sales were lower than they are now. Earlier this year, global smartphone chipset shipments declined 5% YoY in Q1, 2022.
Smartphone sales soared during the 618 e-commerce promotion period and when key cities lifted lockdowns, the report claimed. Profits during this promotion were down 10% YoY. Given Q2 2022's low sales volume, we foresee a rise in Q3. Senior Analyst Ivan Lam believes that with weak consumer sentiment and a lack of new developments, the second half of the year will be difficult to outperform the first.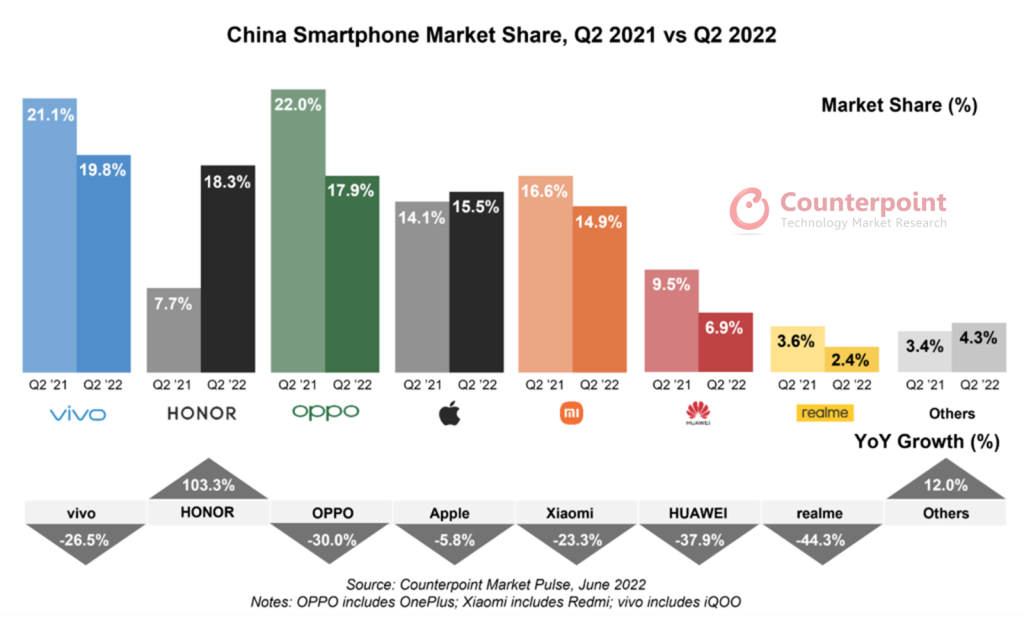 China smartphone sales Q2 2002: Highlights
In the second quarter of 2022, vivo maintained its lead with a 19.8 percent share, followed by HONOR (18.3 percent) and OPPO (17.9 percent).
Apple climbed to fourth place with a 15.5 percent market share.
Only one major brand, HONOR, had an increase in sales year over year.
Sales for realme decreased by 44.3% year over year.
Vivo continued its dominance in the quarter. The mid-to-high-end S12 series benefited vivo in the $250-$399 segment. Sub brand iQOO garnered excellent feedback among younger customers.
HONOR continues its return by expanding offline. HONOR's coverage in lower-tier cities witnessed fewer lockdowns in Q2 2022. During the quarter, HONOR took shares from all the leading Chinese brands, including HUAWEI. Even though Apple didn't do as well as it could have in Q2 2022, sales of the iPhone 13 series were very strong. In June, models like the Redmi K50 and Note 11 series helped boost sales for Xiaomi.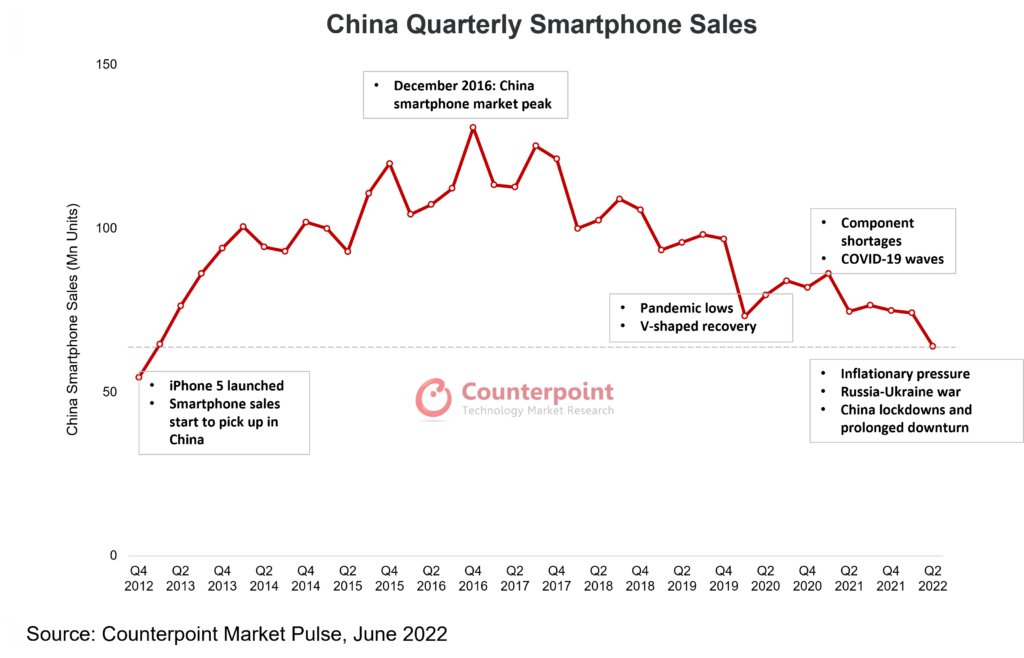 Despite the disappointing results in the second quarter of 2022, prominent Chinese original equipment manufacturers (OEMs) continued their attempts to bolster their positions in the high-end market.
HONOR and Xiaomi's high-end models have been benchmarked against Apple by adding various iPhone features in order to compete with Apple's products. OPPO and Vivo are also capitalizing on the launch of their foldable devices in an effort to improve their market share in the premium class.
Commenting on the Chinese smartphone market's performance, Senior Analyst Ivan Lam said,
China's economy merely grew 0.4% YoY in Q2 2022, lower than the market expectation of 0.8%-1%. During this period, major cities across China, including financial and manufacturing hub Pan-Shanghai, went through full or partial lockdowns. The hardest hit was the services sector, which fell into contraction territory, from 4% YoY growth in the first quarter to 0.4% in the second quarter. The deepest decline occurred in April's consumption data, with total retail sales of consumer goods falling 11.1% YoY. Weak consumer sentiment combined with the high smartphone penetration rate in China resulted in poor Q2 performance of smartphone sales.