Cosmic Byte, an Indian gaming accessories firm, has announced the release of two new gaming headsets: the Equinox Kronos Wireless and the Equinox Neutrino. The new headsets are aimed at gamers who want an immersive audio experience with Dolby Atmos.
Protein leather ear cushions give comfort and style. With high-quality memory foam, the headset is lightweight, allowing gamers to play longer. Equinox Kronos Wireless and Equinox Neutrino have outstanding, durable components and ergonomic designs for gaming.
The headsets have metal armbands and aluminium frames for durability. Both the devices are powered by Dolby Atmos, which provides a spatial audio experience that offers superior, multidimensional sound while gaming. Both headsets are PC, mobile, tablet, PS4, PS5, and XBOX compatible.
Equinox Kronos: Kronos has 50mm high-fidelity drivers for improved sound quality and 20ms of ultra-low latency for flawless audio. Mute, volume, surround sound, and LED buttons are all controlled by dedicated buttons on the ear cups. The headset is suitable for both wireless and wired connections. It also has a 3.5mm AUX input for direct connection via cable. The mic has a pull-out feature that allows it to be used and retracted at the user's leisure. Kronos has a battery life of up to 24 hours.
Cosmic Byte Equinox Kronos: Specifications
Speaker Type: 50mm Dynamic Speaker
Speaker Impedence: 32Ω
Microphone Type: Pullout Uni-directional ENC Microphone
Transmission Frequency: 5.8Ghz
Transmission Distance: 360° 10 meters
Battery Capacity: 1500mAH
Power off Voltage: 3.4V
Charging Time: 2.5Hrs
Input: 5V 1000mAh
Charging Protection OVP: 18V
Battery Life: 24H at 70% volume and LED off
Headphone Weight: 333 grams
Equinox Neutrino: The Neutrino includes On/Off buttons for controlling the LEDs. It includes USB, USB C, and 3.5mm cables for improved connectivity and versatility. It also includes 1.8 metres of strong braided cables for durability and convenience. The detachable microphone is useful for both types of gameplay; users can plug it in and take it out whenever they want. A unidirectional environmental noise-cancelling microphone is built into the headset.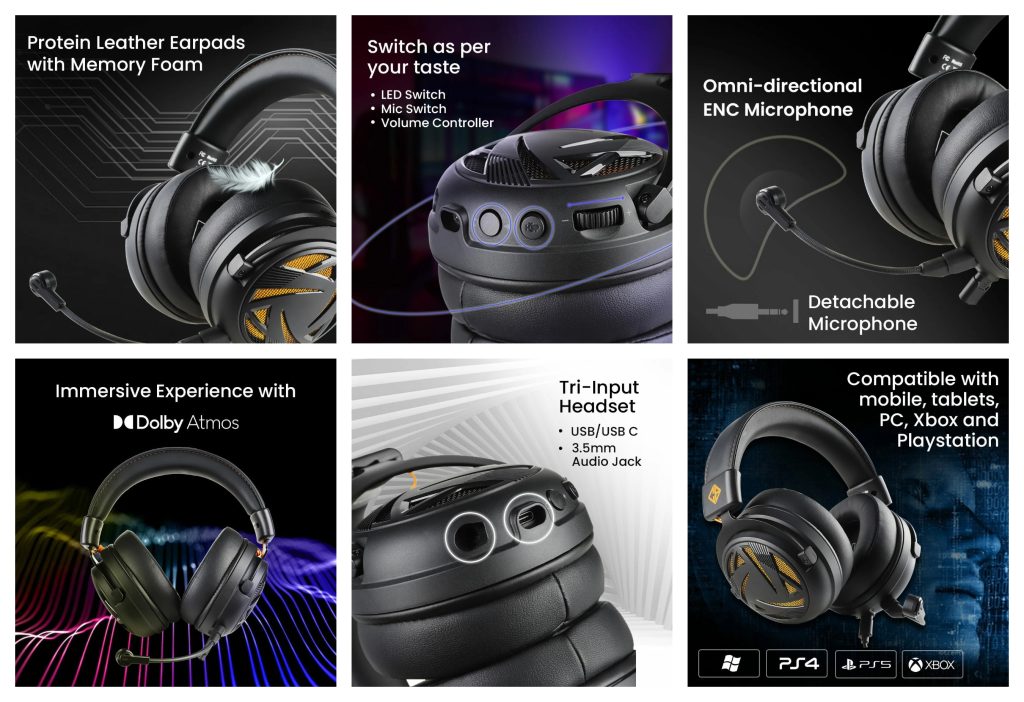 Cosmic Byte Equinox Neutrino: Specifications
Headphone Weight: 327 grams
Speaker Specifications
Speaker Type: 50mm Dynamic Speaker
Speaker Impedence: 32Ω
Frequency Range: 20Hz – 20,000Hz
Sensitivity Headset: 100 ± 3dB
Microphone Specifications
Microphone Type: Detachable Omni-directional ENC Microphone
Sensitivity: -45 ± 4dB
Frequency Range: 100Hz – 10,000Hz
S/N Ratio: 60dB
Headphone Weight: 327 grams
Pricing and availability
For a limited time, the Equinox Kronos Wireless and Equinox Neutrino are priced at INR 6499 and INR 4499, respectively, rather than the original price of Rs. 7,999 and Rs. 5,499. Both headsets will be available on Amazon.in and can also be pre-ordered now through the Cosmic Byte website.
Speaking on the launch, Ronak Gupta, Partner, Cosmic Byte, said,
Gaming with Dolby Atmos is becoming increasingly popular. It immerses you in a more intense gaming experience that brings crystal clear, hair-raising realism to even the busiest of battlefields, so you can catch the subtle, potentially game-changing sounds you've been missing.

For example, in first-person shooting games, knowing where gunfire is coming from or being able to accurately gauge the position of your enemy based on the sound of their footsteps can mean the difference between life and death.

At Cosmic Byte, we focus on delivering exceptional and immersive gaming experiences. Our Equinox Kronos Wireless headset is India's first wireless gaming headset with Dolby Atmos immersive audio. We believe the new headsets will truly transform the gaming experience for our customers.