Last month, Inbase, a consumer accessories brand, launched an affordable smartwatch — Urban Fit S, in India at Rs. 4,999 last month. The smartwatch has many features, including Bluetooth calling and blood pressure. We have used the smartwatch briefly, and here's our take on it.
Design and Display
The Urban Fit S has a square-shaped dial that looks much like an Apple Watch. However, the smartwatch uses a Zinc Alloy casing and features a flat display. On the right, you get a button alongside a crown and a speaker on the left. The crown lets you scroll through a menu, change the watch face, and change the volume.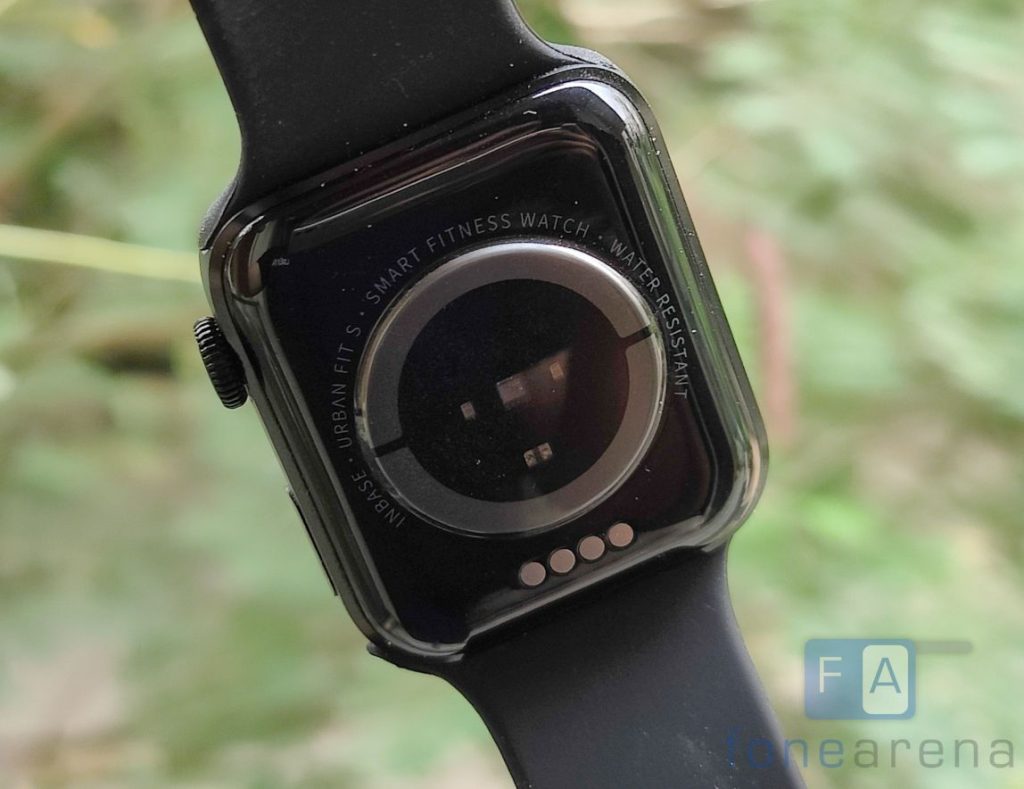 You can see the heart rate and SpO2 sensors on the back, along with a pogo pin for charging. Coming to the strap, it is a lightweight interchangeable strap that is made of skin-friendly silicone material, and the quality of the strap is good. Again, the strap mechanism is similar to Apple Watch.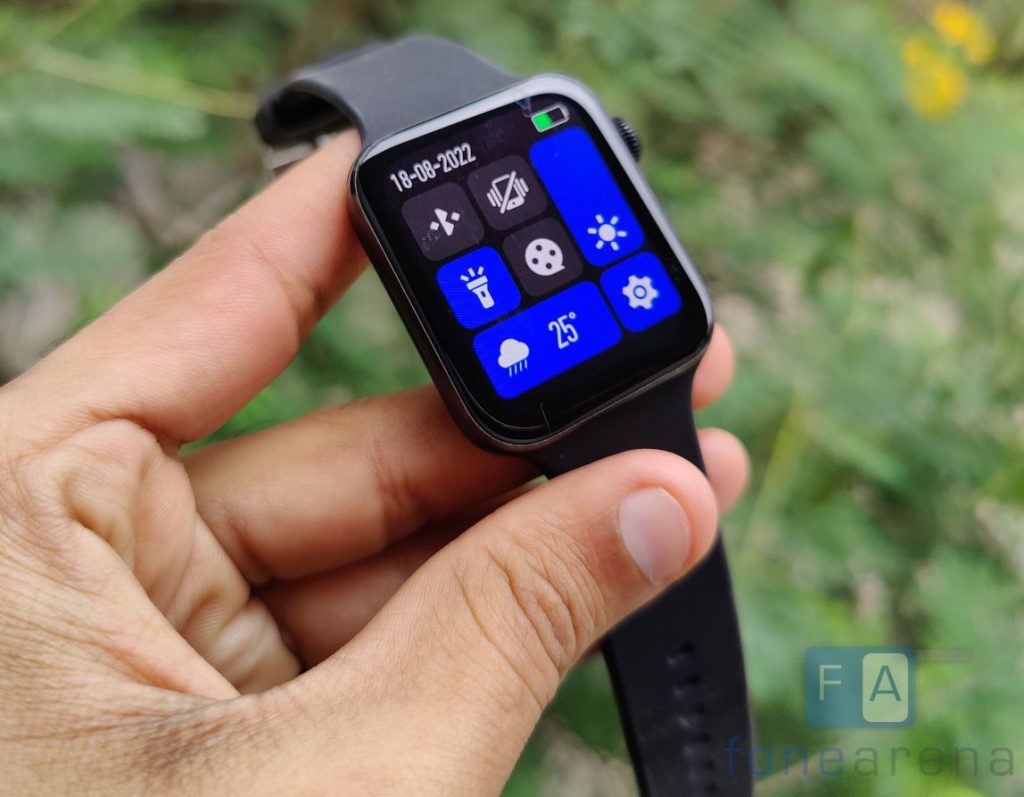 The watch sports a 1.78-inch display with good color reproduction. The text looks sharp, touch responses are good, and the always-on functionality works well too. You can set it to turn on when you lift your hand, and the screen turns off in a few seconds to save power.
When you swipe from the top, you can adjust the brightness from the brightness bar, but there is no auto-brightness option. There is also an easy notification shade option when you swipe from the bottom. The notification panel has Silent mode, torch, brightness adjustment, DND, power saver, and Settings. 
Features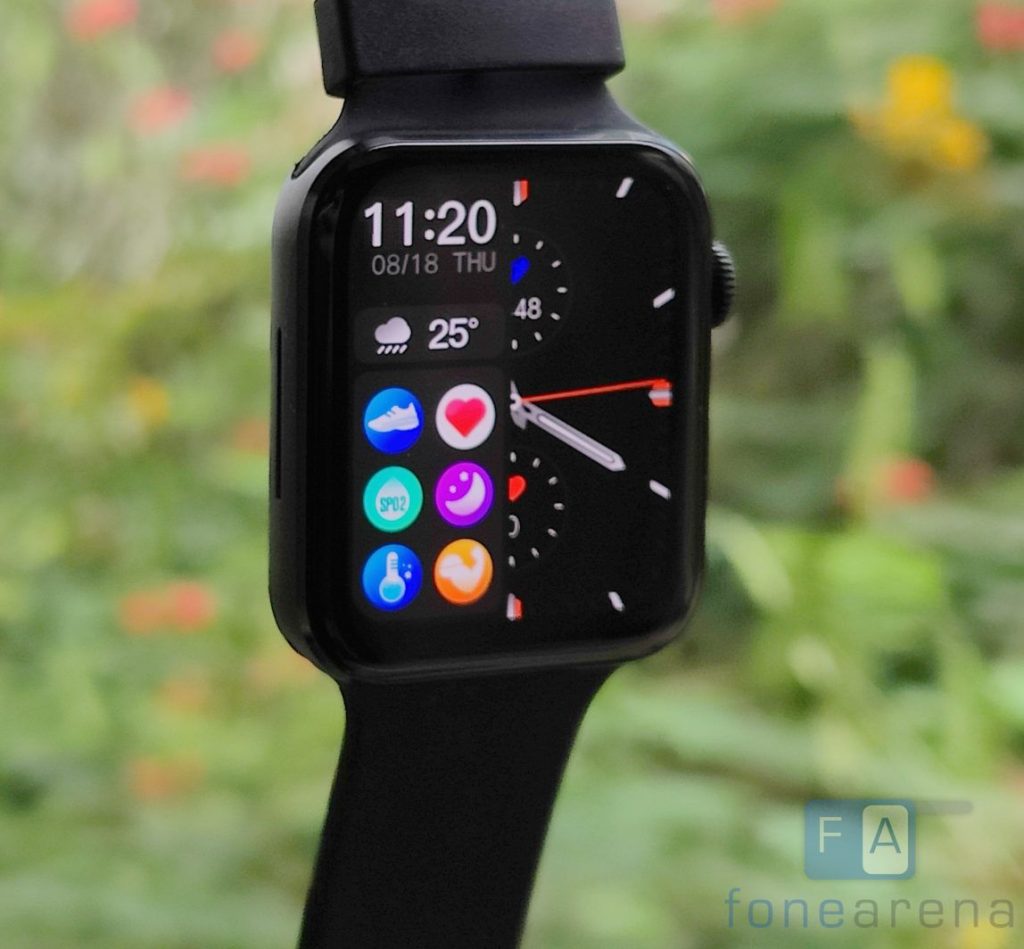 Regarding the Fitness app, the Urban Fit S comes with Urban Health Suit, which can monitor Heart Rate, Sleep Monitoring, Blood Pressure, and Blood Oxygen. Women can also track their menstrual cycles with the Physiological Cycle Reminder App. One can also set reminders for Sedentary and Hydration alerts.
The main highlight of the smartwatch is the built-in calling feature since it has a microphone and a speaker. Moreover, it shows a call log, and there is even a dial pad, in addition to the contacts option, which you can add from the app. 
The calling experience is good indoors; the microphone can pick up the voice well, and the speaker output is loud enough. However, it is not that clear in a noisy outdoor environment. The smartwatch also comes with 120MB of in-built memory. 
App
Urban Fit S uses the 'Da Fit' app from which you can control various aspects of the watch, including Watch faces, notification settings, Alarms, camera shutter, reminders, and more. 
It also shows activity details on the home screen, step count, sleep data, distance, heart rate data, blood pressure, and blood oxygen record.
In the settings tab, you can set notifications and alerts, add contacts, idle alerts, enable auto heart rate monitoring, set drink water reminders, enable camera shutter, add a location for weather details, set alarms, and more. 
Performance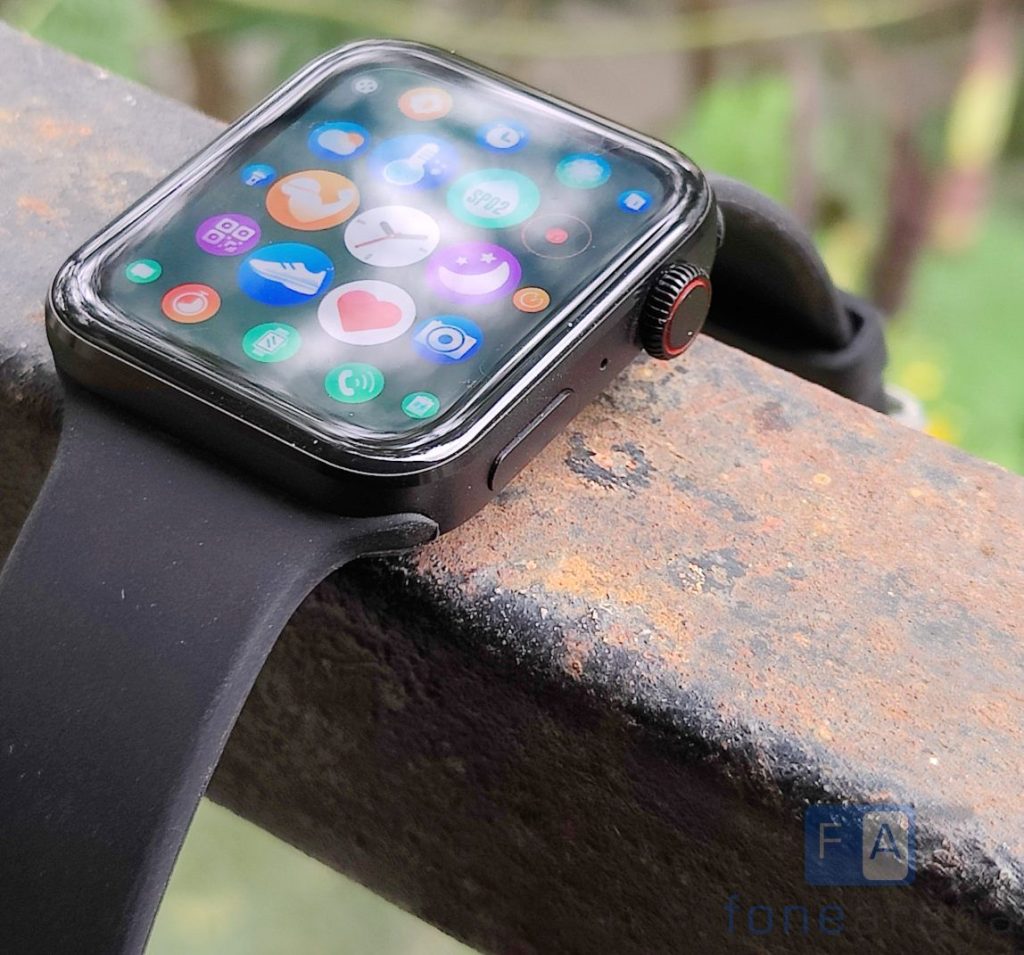 For outdoor activities, you get all the details such as distance, calories burnt, average heart rate, and more. However, it would be best to use the phone's GPS since the watch doesn't have GPS. Also, during running, it doesn't track routes but takes data only based on steps. 
The watch also has blood pressure, Spo2, and sleep tracking. However, the data collected is not accurate. In addition, we noticed differences in the readings when measuring the data with actual medical equipment, particularly during BP. Therefore, we suggest you not rely entirely on this watch's data.
Battery
A 250mAh battery unit powers the Urban Fit S smartwatch. According to the company, this smartwatch can deliver a total backup of around ten days with standard usage and five days during the calling feature. As advertised, we got over a week of backup with a single charge. However, battery life might vary depending on frequent use of the display with increased brightness, heart rate monitor use during workouts, calling, and all the notifications turned on. It has a magnetic charging dock that you can even plug into a USB port of a PC or a laptop or use a power bank in low-power mode.
Conclusion
The Urban Fit S is a decent smartwatch with voice calling for Rs. 4,999. It has a large colour touch screen with many watch faces, comes with voice calling capabilities, and offers a good battery life. However, activity tracking needs to be improved. Nevertheless, you can opt for this watch if you want a mix of good looks and features at a budget price.
It is available from Urban Official Website and all leading retail stores.