In collaboration with Dolby Laboratories, the well-known mobile game "Epic Cricket" is now available in Dolby Atmos. The game is developed by Moong Labs, a top developer and publisher of free-to-play (F2P) games for smartphones and tablets.
Epic Cricket in Dolby Atmos offers exciting and immersive mobile cricket gameplay like none before. The company also says that the game's creators used complicated algorithms and techniques to make it look and sound real. Epic Cricket will seem more realistic with Dolby Atmos. The player will hear a roar from the fans when the ball moves and a wave while preparing for the next delivery.
The wicketkeeper's audible chatter from behind the stumps adds authenticity. All the players' as well as the crowd's reactions will create a realistic experience that connects the player to the action like never before.
EPIC Cricket is for global cricket lovers. The game promises an authentic and full-featured mobile cricket experience. Dolby Atmos provides a new level of immersive gameplay, putting players at the centre of the action with otherworldly sound.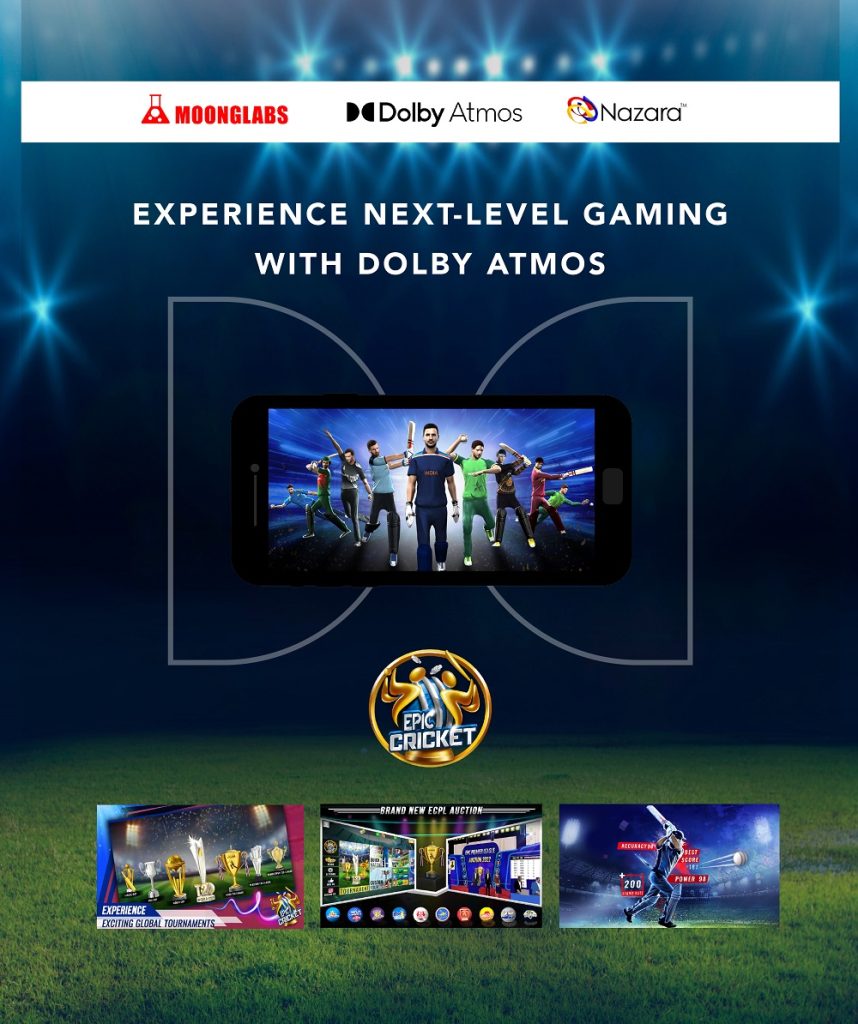 Epic Cricket Game: Features
HD quality visuals with life-like international players.
175+ animations to provide an authentic gameplay experience.
Full match live commentary, and an immersive audio experience with Dolby Atmos.
Gamers can play tournaments such as World Cups and Domestic T20 Leagues on the mobile app – You can download the game from the Play store.
Commenting on the development, Samit Babbar, Head of Product, Moong Labs said,
The Indian gamer today is seeking a quality experience while playing their favorite game on mobile. Epic Cricket with Dolby Atmos® will bring a whole new level of immersive gameplay to take gamers right into the action with surreal sound as if they were standing in person in the middle of the pitch. You'll be able to soak in the sound, the tension, and elation of the crowd as you lead your team to an Epic Cricket journey.
Speaking on the release, Ashim Mathur, Senior Regional Director, Japan, and Emerging Markets, Dolby Laboratories, elaborated that,
Being a mobile-first nation, mobile gaming is growing rapidly in India. There has been an increased demand from consumers for spectacular audio experiences on their smartphones. We cater to this demand with Dolby Atmos®, which provides impressive clarity, detail, and depth to create a more realistic and thrilling experience while gaming. We are confident that with Dolby Atmos®, gamers will enjoy a richer experience while playing Epic Cricket